Corpus Christi Museum of Science & History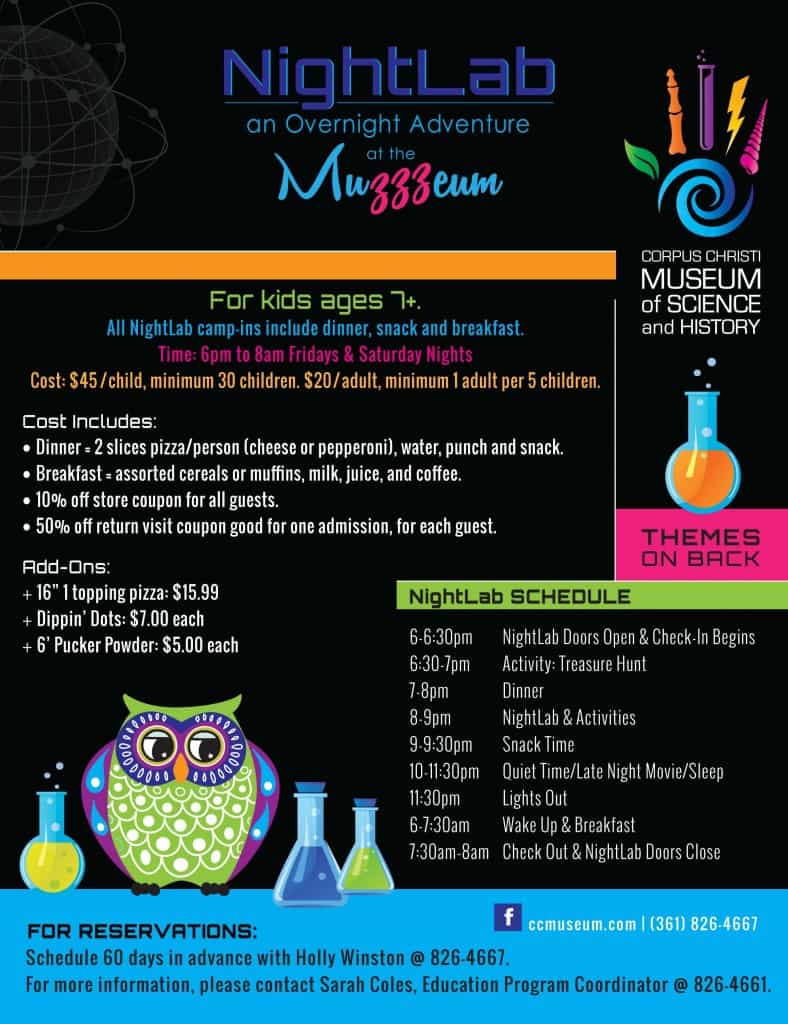 Themes:
CSI: NightLab. There's been a crime at the museum! Help crack the case by collecting evidence, analyzing fingerprints, deciphering hand writing, exploring chromatography and so much more.
NightLab: Swash-Buccaneers. Ahoy, Matey! Join of our rowdy crew for an overnight adventure! Discover ancient mariner techniques such as dead reckoning, celestial navigation, and cartography. Search for clues to unearth your very own buried treasure.
NightLab: Native Americans. Learn about the history, culture, and language of the Karankawa people of South Texas and other Native American tribes throughout North America. Boy Scouts, this Overnight program is an excellent opportunity to work towards your Indian Lore merit badge.
Mad Scientist NightLab. Exploding, smoking, bubbling science. Is it alive? Become a mad scientist using electricity, chemistry and all the stuff you can't do at home. Don't worry mom, it's really safe… Or is it?!
NightLab: Six Flags Over Texas. Discover the history and heritage of Texas in this Overnight program that is a fascinating blast from the past.
Eco Tales NightLab. People are not the only residents of South Texas! Join us while we explore the different plants and animals that also call South Texas home. This Overnight program is perfect for Cub and Girl Scouts working towards their Wildlife Conservation Loop Badge or Academic Pin.
NightLab: Women of Texas. Learn about the historically significant women of Texas. From Supreme Justice Sandra Day O'Conner to poet Gloria Anzaldua, learn why you don't mess with Texas women. This Overnight program is a great choice for Girl Scout groups.