Corpus Christi Museum of Science & History
Teachers and Students
Plan a trip for your class to the Museum
The Corpus Christi Museum of Science & History welcomes schools, scouts and groups of all kinds. Our exciting programming ranges from biology to physics to 1,000 years of South Texas history. Schedule a group visit today!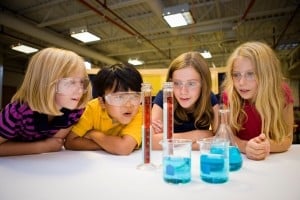 Focus Programs
These 2 hour educator led programs focus on a specific area of science or history. All programs are TEKS aligned, and can fit perfectly into your lesson plans
Cost: $8 per student (*$18 per student for Gross Anatomy)
See a complete list of all available Focus Program topics
Discovery Carts
Students can explore the Museum at their own pace while interacting with educators at stations of your choosing. Pick from up to five stations for your students to engage with.
Cost: $10 per student
Museum Tour Guide
Explore the Museum with a Guided Tour. Your tour offers a unique and engaging experience that covers all of our galleries, individually crafted by our experienced tour guides. The tour provides a personal touch and enriched museum experience as you gain insight into the wonderful and rich collection of objects and artifacts at the Corpus Christi Museum of Science and History.
Guided tours are about 30 minutes long and can be added on to any educational program or self-guided tour.
Cost: Additional $2 per student
Self-Guided Tours
Students can explore the Museum at their own pace.
Cost: $6 per student
Offsite Programs
Allow our educators to come into your classroom and lead the group in a 45-60 minute series of activities on a specific topic. These activities can be repeated for as many classes as you have.
Cost: $100 a class (30 students max) with a $20 up-charge for every additional ten miles past the first ten.
Click here for a full list of offsite programs
All programs need to be scheduled at least 14 days prior to your visit.
Schedule a visit by calling 361-826-4667 or emailing alicial@ccmuseum.com
.