About the Museum
The Corpus Christi Museum of Science and History was established in 1957 and is perched on the scenic harbor waterfront in the Sports, Entertainment, and Arts (S.E.A.) district in Corpus Christi, Texas.
Dedicated to exploration and education
Mission and History
Education goes beyond the classroom to immerse children of all ages into real-world challenges and exploration.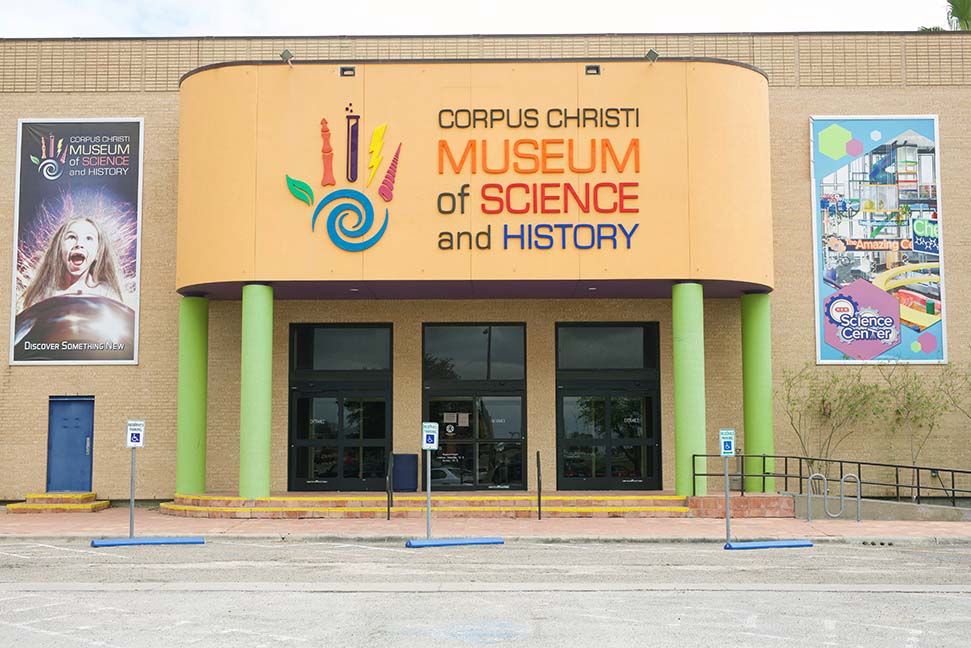 The Mission of the Corpus Christi Museum of Science and History (CCMSH) is to engage and educate people in science and South Texas history through exhibitions and programming, inspiring enduring curiosity in people of all ages. Our Museum's history and science exhibits are a collection of carefully selected representations that are unique to our culture and our surroundings. Our historical collections showcase 500 years of South Texas history. From historic shipwrecks of early explorers to decorative arts from area families, these exhibits give you an up close look at the life and the people of our great region.
A home to local history and scientific advancements over time.
The Museum serves over 100,000 visitors and promotes history, science exploration, and educational programming. The Museum is also the repository for hundreds of thousands of artifacts and historically significant items in its nearly 100,000 sq. ft. facility. The Museum engages and educates the public in science and history through exhibits and programming to inspire curiosity, understanding, and an enduring thirst for knowledge.
Interim Executive Director
(361) 826-4629
Chief Financial Officer, Accounting, & Human Resources
(361) 826-4662
Manager of Museum Collections
(361) 826-4656
Manager of Education & Camps
(361) 826-4661
Manager of Events & Sales
(361) 826-4650
Manager of Exhibits
(361) 826-4659
Manager of Visitor Experience & Gift Store
(361) 826-4664
Manager of Marketing, P.R., & Creative
(361) 826-4680
Manager of Facilities & Janitorial
(361) 826-4665
Tickets, Gift Shop, & Reception
(361) 826-4667