About the Museum
The Corpus Christi Museum of Science and History was established in 1957 and is perched on the scenic harbor waterfront in the Sports, Entertainment, and Arts (S.E.A.) district in Corpus Christi, Texas.
Dedicated to exploration and education
Mission and History
Education goes beyond the classroom to immerse children of all ages into real-world challenges and exploration.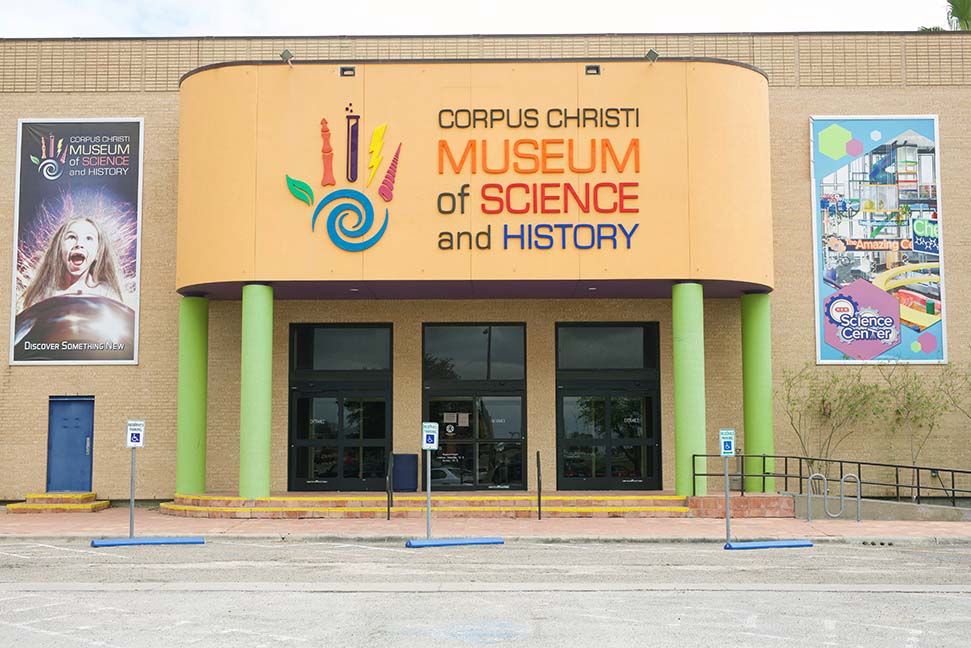 The mission of the Corpus Christi Museum of Science and History is to present the story of the cultural crossroads of the the New World. With a unique confluence of natural history, science, people, and environments, the South Texas area has served as a stage for the ongoing discovery of the Americas. Through innovative programs in history, culture, and science, the Museum is committed to enlarging a shared understanding of our history and heritage, as well as the impact and importance of science to our lives. By telling this story, the Museum will inspire a thirst for knowledge, context, and understanding.
A home to local history and scientific advancements over time.
The Museum serves over 100,000 visitors and promotes history, science exploration, and educational programming. The Museum is also the repository for hundreds of thousands of artifacts and historically significant items in its nearly 100,000 sq. ft. facility. The Museum engages and educates the public in science and history through exhibits and programming to inspire curiosity, understanding, and an enduring thirst for knowledge.
President & CEO
(361) 826-4654
Executive Assistant to the CEO
(361) 826-4629
Curator & Assistant Curator
(361) 826-4656
Exhibits Technician
(361) 826-4659
Education Director
(361) 826-4660
Education Camp Coordinator
(361) 826-4661
Visitor Experience & Gift Store Director
(361) 826-4664
Events & Sales Director
(361) 826-4650
Communications & Creative Director
(361) 826-4680
Facilities Supervisor
(361) 826-4665
Tickets, Gift Shop, & Reception
(361) 826-4667